In Memory of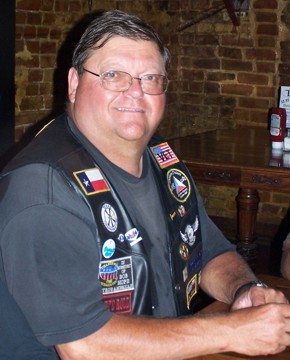 Rich "FamilyGuy" Jaeger
SCC#195002
August 17, 1950 ~ November 22, 2006
Carrollton, Texas

Member of the Denton County Texas Southern Cruisers Chapter
Rich was born in Port Jefferson, NY on August 17, 1950. In 1970 he enlisted in the Navy and proudly served on the USS Enterprise during the Vietnam War. After serving his country he moved to Houston, Texas where he worked in the oil industry. In 1984 he moved to Carrollton, Texas and through hard work became a prominent business owner. One thing close to his heart during his life was motorcycling. It started in 1967 with a Honda 305 Nighthawk, then a Triumph 650 Bonneville, a 1962 Harley Chopper, a 2000 Yamaha Venture Millennium Edition, a 2001 Suzuki 1500 Intruder known as Suzi, and then another 2001 Suzuki 1500 Intruder which he referred to as Suzi II.
In 2004, Rich joined the Denton County Chapter #195. During that time he earned the road name of "Family Guy". If you ever met Rich, you'd know that he was a big guy, not only in size but in heart too. He not only looked like "Family Guy" but it was because of the love he had for his Family and Friends is why the name really fit him.
On Wednesday, November 22, 2006 Rich "Family Guy" Jaeger was taken from us. Rich was a good friend and a Great Ambassador to the Bike world. He was a high quality friend and he will be remembered for the leadership that he brought to his chapter. He will also be remembered for his willingness to help anyone when he could, and his marvelous spark of humor that could make you laugh so hard that your face would hurt. He will never be forgotten for he will always be in our hearts..