The DAVIDSON CODE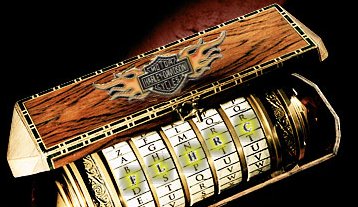 Decoding the Harley Letter Codes
Mocc's Guide to Understanding the Harley Model Letters
The Harley Model Codes used to be fairly simple, but over the last few years, they have strayed from "logical" to "what letters have we not used yet". HAHA!! :-)

Each letter in the code stands for something, but sometimes they use a pair of letters, and then there will be suffixes, so think of "blocks" rather than letter number when we mention which letter we're talking about.

Harley makes two types of engines and three frames, then outfits the different frames differently, for touring or cruising or whatever.

First Block - Engine Type
The first letter is the engine type.
F is the Big Twin engine, and
X is the EVO Sportster engine.

All sportster models begin with XL. The remaining letters in the Sportster line tell you its engine size and outfitting
eg: XL883L is the smaller engined "Sportster Low" (lowered suspension)
Second Block - Frame Size
Big twin bikes fall into two frame categories, small frame (Dynas, and skinny Softails) and large frame (fat softails, and touring models), so the second (block) letter tell you what size framework is used.
X (when used in the second block) is small frame, either dyna or softail.
L is large frame, either softail or touring.
Thus, FX would be a big twin in a small frame (with skinny front tire), and FL would be a big twin in a large frame (with fat front tire).
Harley makes three basic suspension designs. The third letter (or block) normally indicates the suspension of the bike, such as:
D Light framed "Dyna" swingarm suspension
ST Light and Heavy framed Softail suspension, and
H Heavy Touring Suspension (usually air assisted)
The Road Glide is an exception to this rule, as it carries no suspension code and is simply designated as FLT. Don't ask me why.
Fourth Block - Model Designation
The fourth letter (usually but not all models use the same number of letters) will indicate the model. Road Kings use "R", Electra Glides models use "T" (as a fourth letter). Softail models use two letters to designate frame, so their FIFTH letter is model, such as "F" (Fatboy), "D" (Deuce) "C" (Classic-Heritage) and "S" or "SC" for springer or springer custom.
OUTFITTING of a particular model is the next one or two letters. Road Kings come in standard hard bags (no additional letters) , "C" (classic leather bags) and "S" (another odd one) for the Custom model with no shield, lowered suspension and smooth bags.

Electra Glides use "C" (classic model with black and chrome accenting or "UC" (Ultra Classic - with communications and leg fairings) or no letters to indicate the standard model.

Tyipically if the last letter of a model is C or B that's an indication that it either has Chrome (Classic) or is Blacked out engine treatments and covers.

Finally, for a time, some models were suffixed with "-I" if fuel injection was an OPTION.

The new Street Glide uses an "X" in it's code instead of the "T" normally used in Road Glide designations (Two totally different bikes, but for some reason, Harley lost control of it's letter mentality), and although the V-Rod logically starts it's codes with "VR" the rest of those is greek to me. HAHA!! :-)
My bike is a Standard Hard Bagged Road King with fuel Injection FLHR-I
F- Big Twin engine in a
L- Large frame with
H- touring (heavy) suspension with
R - Road King package and
-I - Fuel Injection
My wife's bike is a Dyna Low Rider FXDL
F - Big Twin Engine, in a
X- Small framed bike with
D- Dyna suspension and
L- Lowered outfitting

A few other examples:

Heritage Classic FLSTC
F- Big Twin Engine in a
L-Large frame with
ST- Soft tail suspension with
C- Classic (Heritage outfitting)

Skinny tired Softail Custom FXSTC
F- Big Twin Engine in a
X- small frame with
ST- softail suspension and
C- custom (chrome) outfitting

Ultra Classic FLHTCU
F- Big Twin engine in a
L-Large frame with
H- Heavy suspension with
T- Touring package (Electra Glide) and outfitted with
UC- Radio, CB, Intercom, leg Fairings and chrome accenting.

Softail Night Train FXSTB
F- Big Twin engine in a
X-small frame with
ST- Softail suspension and
B- blacked out engine

See how much fun you can have with the Alphabet? :-)