My Naked Ass!
Cleaning up the ass end of a King
Just finished cleaning up the ass end of my 2002 Road King to bring back some of that smooth styling that HDs are so well known for.
Dropped the tag bracket down below the tail light, replaced the tail light lens with a "Layback" design from J&P Cycles, with no tag light window on top, replaced the fender bar with a pair of LED "Shotgun Lights" (formerly Tailgunners) and added a Radiantz LED tag light strip to the bottom of the turn signal bar to put some bluewhite light on the tag at night. :-)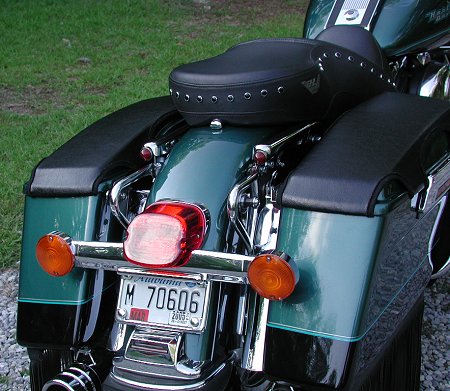 (the two elbow looking chrome brackets are rear detachable mounts for the tour pak)
(This photo also shows Harley brand chromed saddlebag filler strips between bags and fender)
Because of my determination to put some quality light on the tag, and to have some strobing brake indicators when my tour pak isn't in place, I spent a lot of money on goodies for this project, but I knew what I wanted and that's what it took to get it!!
I wired the LED jewel lights up with automotive flasher to the brake light wire. Using the type of "smart" flasher that senses when a light is burned out and flashes twice as fast, wiring both LEDs to it, along with a hidden "draw" light under the seat (the LEDs wouldn't draw enough current to flash the unit, so a hidden, blacked out panel light was installed to increase the current draw).
Here's what it looks like when I put on brakes: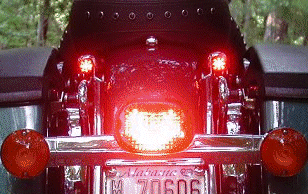 Here's some part numbers for anyone who might be interested in a similar project. It can be done a lot cheaper without the lights, but I love what this does to the bike!
All parts except the flasher and draw light came from J&P Cycles.
3400012 License Plate Mount - $ 49.49
3400433 Lay Down Red Tail Light Lens - $ 22.99
340-460 Radiantz LED Licens Plate Frame - $ 29.99 (The separate light strip that I used is no longer available, but this part number just makes for less work.)
340-143 Red LED Tailgunner Lights - $139.95
AutoZone Flasher - Tridon EP-35 $9.95
AutoZone Panel light socket & Bulb $ 7.99
Total cost of this project: $260.00
Negative aspects: Can't see none of it when I'm riding down the road!! HAHA!! :-) Next time, I'll go for a boob job!! HAHA!! :-)
NOTE: If you're on a budget, or don't care for the tailgunner lights, www.baggernation.com carries a line of billet end caps for those who just want to cut the rear bar off. Here's the direct link to their billet caps (Cost about $65 as of 2015) Also, the Radiance light strips are now made of chromed plastic and cost about a third of what I paid for mine,