Garrett Rinehart Tribute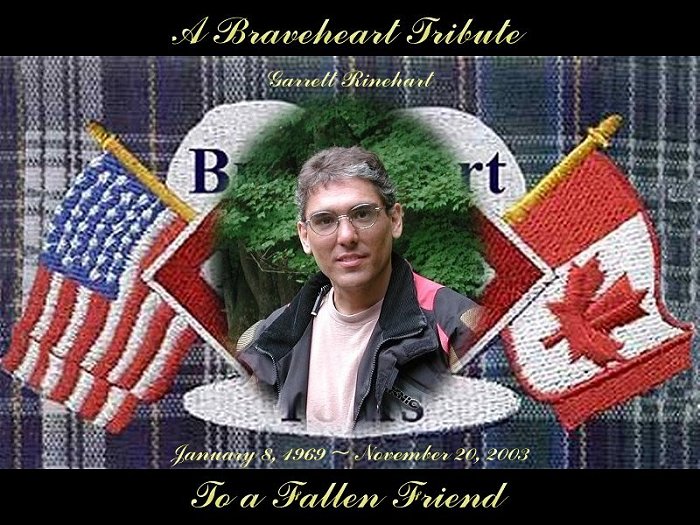 A collection of photos from past Braveheart Motorcycle Tours containing images of Garrett
have been assembled in a slideshow tribute to our fallen friend from Oswego, ILL.

The file "GMAN.zip" is 18.5mb and is set to run at 800x600dpi for full screen viewing. Web security
issues mandate that the file be zipped before uploading, so you will have to download the file ("Save to"),
then unzip it to your desktop or other location on your hard drive. After that, you can delete the zipped file.

Right click on any image during the show to display a list of options. You may pause/resume the show at
any time by pressing "Backspace", or advance quickly by pressing the arrow keys.

The musical background score "I Know You Rider" was performed by fellow Braveheart Riders,
Lan Tran and Bruce Ashley, as seen in the third photo of the show.
Garrett Dale Rinehart, 34, of Oswego, IL died Thursday, November 20, 2003 as a result of injuries sustained in a motorcycle accident. He was born January 8, 1969 in Park Ridge, IL. He graduated from Hoffman Estates High School Class of 1987 and from Purdue University in 1991 from the School of Engineering with a degree in Computer/Electrical Engineering. He was a member of the Oswego Presbyterian Church where he served as a Deacon. Also a member of the American Motorcycle Club and the Brave Heart Tours. He was an avid woodworker and an all around tinkerer.

He is survived by his loving wife, Melissa (nee Williams), whom he married on June 19, 1993 in Ramsey, IN; loving twins, Stephanie and Samuel Rinehart; beloved parents, Dale and Marilyn (nee Pratt) Rinehart; sister, Jennifer (Paul) Wilson of Hayden, CT; brother, Miles (Kristin) Rinehart of DeKalb, IL; two nieces, Abigail Wilson and Lana Williams; three nephews, Matthew Wilson, Chad Wilson and Jake Dickerman; an aunt and two uncles.

The body will lie in state on Monday, November 24, 2003 from 10 AM until the funeral service at 11 AM at the Oswego Presbyterian Church, Rt. #25 in Oswego, IL with Revs. Terry Hennessey and Leon Aalberts co-officiating. Cremation will be accorded by the wishes of the family at River Hills Memorial Park.

Memorials may be directed toward an Educational Fund for the Children care of Educational Fund, P.O. Box 665, Oswego, IL, 60543-0665.

Arrangements are entrusted to the McKEOWN-DUNN FUNERAL HOME, LTD in Oswego, IL.